Jazz, neo soul and electronica collide on this compilation celebrating the 10-year anniversary of the Brownswood label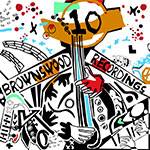 Back in 2006, Gilles Peterson launched the Brownswood label. By this point in his career the London-based DJ was wise to the ways of the music biz: he'd already worked with recording behemoth Phonogram via his Talkin' Loud imprint and had co-run Acid Jazz Records with fellow crate-digger Eddie Piller.
Brownswood started as an outlet where Mr Peterson could release "anything that took my fancy". What exactly takes his "fancy" includes straight-ahead jazz, neo soul and a liberal dose of Latin rhythms, Afro beats and quirky electonica. His tastes are broad.
This compilation celebrates the 10-year anniversary of Brownswood by including one track from the 21 artists the label has released. It's an immensely enjoyable trip down memory lane paved with the swirling strings of The Heritage Orchestra, the jazz funk of Yussef Kamaal's Lowrider and the club floor fillers of Ben Westbeech's So Good Today and Mala's Calle F. In fact, there's a little something for everyone here.
On this page are three album tracks, although to dive properly into this decade-long journey visit Brownswood's Bandcamp page where you can hear the remainder of the compilation and purchase it.
For more on Brownswood Recordings, click here.
• If you like this article, subscribe to Commercial Break's free newsletter or
RSS feed
(click
here
).
Yussef Kamaal's Lowrider

Ben Westbeech's So Good Today (Yoruba Soul Remix)

José James's Code
Track listing
1. Shabaka And The Ancestors' Joyous
2. The Heritage Orchestra's Ballad for Strings
3. Swindle's Summer Fruits
4. Sonzeira's Nós precisamos de você feat. Moses Boyd
5. Yussef Kamaal's Lowrider
6. Zara McFarlane's More Than Mine
7. José James's Code
8. Ghostpoet's Survive It
9. Half Seas Over's Evensong
10. Troumaca's Layou
11. Anushka's Never Can Decide
12. Ben Westbeech's So Good Today (Yoruba Soul Remix)
13. Mala's Calle F
14. Danay Suárez's Guajira
15. Daymé Arocena's Mambo Na' Mà
16. Gilles Peterson's Havana Cultura Band's Orisa feat. Dreiser & Sexto Sentido
17. Diggs Duke's He Wants To Live Like You
18. LV feat. Tigran Hamasyan's Hammers And Roses
19. William Adamson's Poacher
20. Gang Colours' Why Didn't You Call? feat. Lulu James
21. Owiny Sigoma Band's Harpoon Land