London-based musicians Emeson and K15 have joined forces to create one of the best singles of 2014… and it's free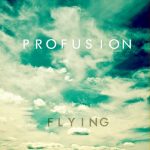 London-based artists Emeson and K15 have teamed up under the moniker Profusion to create one of the best tracks of 2014 – and it's free. Singer-songwriter Emeson made a splash earlier in 2014 with his soulful Bespoke EP, while the dulcet techno of K15's Yellow set dancefloor alight throughout summer.
Flying, the duo's new single, is a sumptuous slice of soulful broken beats that wouldn't sound out of place on albums by Silhouette Brown or Kaidi Tatham. It's that good.
Download it from here and let's hope there's a profusion of Profusion in 2015.
• If you like this article, subscribe to Commercial Break's free newsletter or
RSS feed
(click
here
).