Fans of early Patrice Rushen will love this free track by UK songstress Deborah Jordan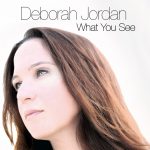 To celebrate the release of Deborah Jordan's second album, What You See, here's I Know You. It's a free track that couldn't be included on her new release because of issues surrounding sample clearance. Fans familiar with early Patrice Rushen will love this free download.
Jordan's new album What You See follows on from 2009's The Light and features contributions from Simon S, Kira Neris and Marc Rapson. What You See is currently available in the US, while the rest of the world will get its hands on the album in early 2011.
• If you like this article, subscribe to Commercial Break's free newsletter or
RSS feed
(click
here
).