The debut LP from a Leeds-based six-piece is an electronic journey with a distinct UK flavour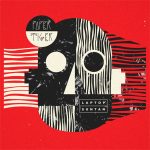 Anyone that produces a track entitled David Starkey – he's a UK historian, by the way – deserves credit, but there's more to this six-piece than cheeky references to an Oxbridge annalist.
While the music of this Leeds-based outfit could conveniently fall under the electronica umbrella, there's a multitude of other influences evident on Laptop Suntan, spanning hip hop (The Sting) to dubstep (Air). MCs King Kaiow, Infinite Livez and Bang On! are also on hand to add a distinctly UK-flavour on top of Matt Davies's beats.
Laptop Suntan is out now on CD and digital download from Bandcamp, iTunes, Amazon and most other stores with good taste.
• If you like this article, subscribe to Commercial Break's free newsletter or
RSS feed
(click
here
).