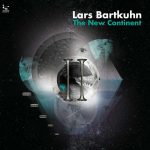 Some say material on this album sounds a bit like Pat Metheny. They're mistaken. There's material on this album that sounds a lot like Pat Metheny. All those "eee yaaahs" and "bah deee baaahs" can be heard on late '80s Metheny LPs like Still Life (Talking) and Letter From Home. If you own them, buy The New Continent. You won't be disappointed. If, by chance, you've never heard of Pat Metheny, you'll find this album both a revelation and reassuringly familiar.
Revelatory because those Metheny recordings were influential, being multilayered forerunners to chill-out music. But those chill roots also mean much of The New Continent is recognisable, with airy openerGoodbye Dancing Hello God already an über cool anthem.
For this reason, the album is the soundtrack of choice for every wannabe-hip dinner party and wine bar. Too bad. The New Continent deserves better. Its title track features the kind of nimble guitar work that'll be drowned out by the clatter of cocktail glasses.
Far from being the de rigueur accessory for Ikea-clad pads, The New Continent is a thoughtful, nuanced body of work. The only problem is: will anyone notice?
• If you like this article, subscribe to Commercial Break's free newsletter or
RSS feed
(click
here
).