Listen to City, a jazzy eight-track album from the former Cinematic Orchestra guitarist, which marries acoustic artistry with electronic flourishes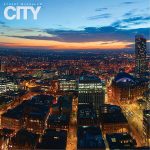 Mancunian guitarist Stuart McCallum is best known for his work with The Cinematic Orchestra. But unlike the latter's brand of jazzy and (often) folksy goings-on, McCallum's solo effort is a little more ethereal and oblique. That might have something to do with the input of Richard Spaven, McCallum's Cinematic Orchestra compadre and drummer to the likes of 4hero and Mark de Clive-Lowe. Anyone who's heard Spaven's work will find City reassuringly familiar, as the percussionist produced and co-wrote much of it.
Punters' ears will certainly perk up at the delicate vocal tunes of Said And Done and the title track, however it's on such songs as North Star, where McCallum's chords jut in and out of Spaven's mischievous off beats, that proceedings get gloriously unpredictable.
With the help of Brotherly bassist Robin Mullarkey and Sophie Barker of Zero 7 fame, City pulls off a neat trick of weaving acoustic instrumentation through a rich electronic tapestry, all recorded exquisitely by Naim, a label that prides itself in producing audiophile LPs.
On this page is a four-track sampler of City, which can be bought from Naim Jazz and most major outlets.
Websites
Stuart McCallum
Naim Jazz
Track listing
1.
City
(feat. JP Cooper)
2.
Inhale
3.
North Star
(feat. Sharlene Hector)
4.
T-Onics
5.
Effergy
(feat. Fridolijn Van Poll)
6.
Trio Seven
(feat. Emma Sweeney)
7.
Mk II
8. Said And Done (feat. Sophie Barker)